"The crowd are on the pitch, they think it's all over. It is now!"
Kenneth Wolstenholme, 1966
What a fitting way to finish our season. A lovely sunny day, but a stiff breeze that seems to have been our friend and foe all year long. We already had plans for the weekend – a non-travel weekend; Lindsay had offered Steve Abraham a late Saturday evening roadside control for the seventh edition of his late season 600 from Milton Keynes – a popular stop from last year. This meant we'd need to finish our ride in time for her to get home, bake some cakes and make soup, and we then get ourselves and control goodies up to Heacham from Bury St Edmunds.
No problem! Setting a Saturday alarm for 4:25 is old-hat these days.
I submitted a route I'd had in my head for some time, though I'd never looked to see if you could actually make a suitable audax route out of it. Turns out, you can make a perfectly good 200km route that visits Hitcham, Flitcham and Litcham, and so we submitted our entries.
From Diss, we headed south on my favourite B-road. You may remember this road from such rides as the Green & Yellow Fields. It was dark, and we were mostly quiet – mindful that this was almost certainly our last ride of this season.
A slight dampener on proceedings – my insides. I'd felt a bit off when I got up, and had to force breakfast down. Now, I was decidedly uncomfortable; I daren't drink too much water in case I threw it back up.
Needless to say we had to wait for the level crossing at Stowmarket – which seems to spend as much time closed as it does open. At Onehouse (We prefer the ancient Scandinavian pronunciation – "On-eh-hooz-ah") we needed to gear-change down from the big ring to the middle, to have any chance of climbing out of the valley to Great Finborough. Enter snag number 2; something had broken on the front mech; there was a hole where previously there had been a bolt, through a pivot-point. We manually engaged middle-ring and continued. I maintained a lock-down on my restless insides, and denied myself an overwhelming urge to change back to the Big Ring when the road levelled out. Still, we clocked up Yet Another Stunning Sunrise – so all was OK!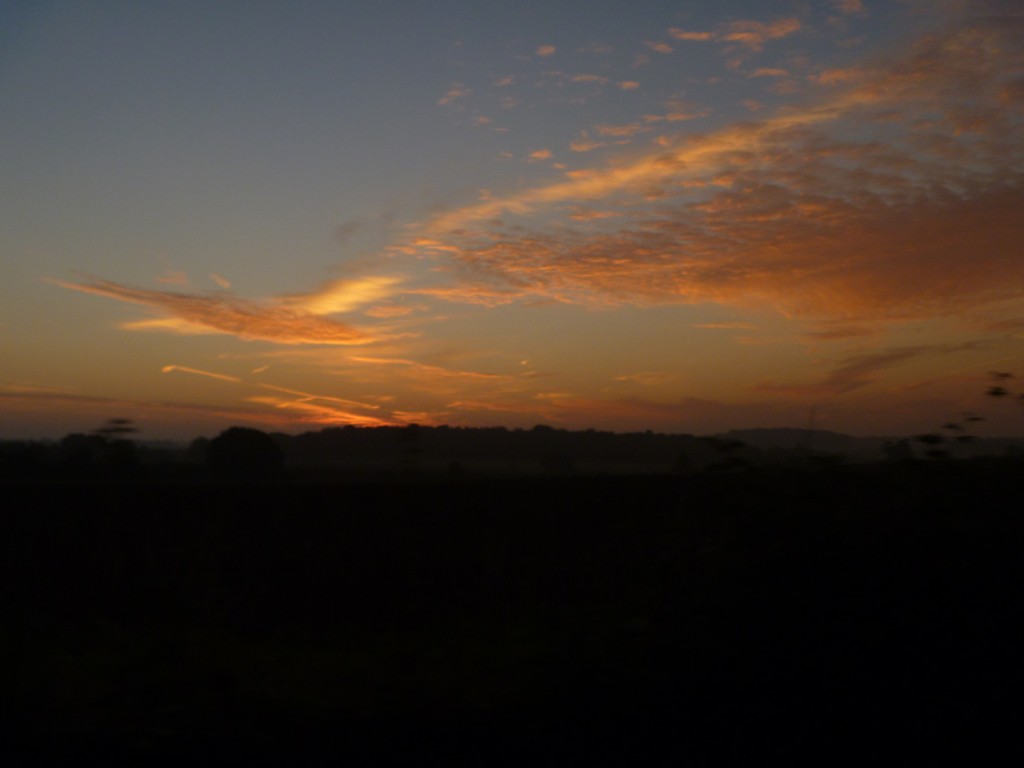 It wasn't long before we descended into Hitcham, and our first catch of the day!
We turned right at the pub, and climbed back up to Buxhall, and headed North for Elmswell. Lindsay promised me a loo at the Co-op, but sadly her "All Co-ops have a loo" mantra let us down again. You may remember such fallacies from such rides as To Holl and Back. We pressed on; I became annoyingly chatty to try and distract myself from the nausea and Lindsay did her best to humour me.
We endured the cracked and bumpy aerodrome roads between Barningham and Knettishall. Lindsay identified the large house in the distance as Riddlesworth Hall, now a Prep School for rich kids. I surmised that from there, during the war, they would have had a cracking view of the Flying Fortresses taking off from RAF Knettishall. Meanwhile in the faulty gearing department, I'd taken an executive decision to change to the 51-tooth ring ("The Big Ring" Lindsay(tm)) and there was a slight climb coming up at East Harling that we probably wouldn't manage in the higher gears. We worked out a way for Lindsay to manually change the gear by giving the mech a shove with her foot. It worked well enough – and front gear changes no longer needed us to stop.
After East Harling, comes Larling. This was previously the scene of some shenanigans that had ultimately led to further shenanigans that have no part in this blog post other than to say that none of this season would have happened if such shenanigans hadn't taken place, so we thought it appropriate to stop briefly to admire the New Day. You may remember this memory from such rides as A Quick Trip to the Coast. I took a picture – the morning light was lovely.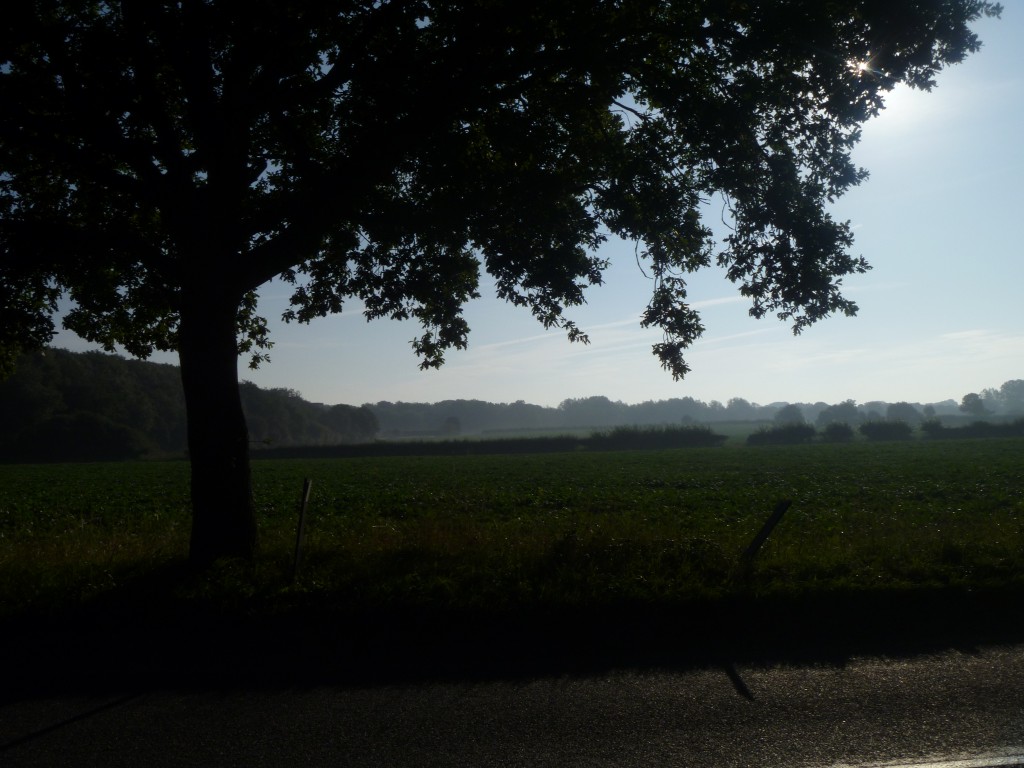 We reached Tesco at Watton in good time, and after a brief "Oh I have a tandem" type conversation just after we arrived, I was finally able to sort out my internal comfort issues, and we mentally regrouped in the light of the new day. We decided to press on to Swaffham and stop for Proper Breakfast there – where we would be (just) over half way. It was a bumper harvest at the Pickenham wind farm as we passed – the blades swishing in the sunlight.
You may remember this windfarm tableau from such rides as The New Year's Day Randonnee.
We stopped at the Tea Pot cafe in Swaffham. My insides had calmed down enough for me to contemplate Actual Food – and in the event, it turned out I was really hungry, and ate my bacon bap with relish. You probably won't remember the Tea Pot cafe from such rides as Returning The Loan Tandem because the blog entry was nearly all pictures.
Swaffham market was bustling as we left, and head north west through Narford to Gayton and the B-road to Hillington. It was a lovely morning, and we were infused with that End of Term feeling. Even my niggling left knee was behaving itself. We reached our second catch of the day.
There was some climbing next through Little and Great Massingham to pick up the B1145 east. We crossed the A1065 at roughly the point we'd been close-passed by some kids in Clios (Why do boys who're trying to look "hard" drive hairdresser's cars?) – a point you may remember from such a ride as DIY 200 December 30. It wasn't long before we reached our third catch of the day.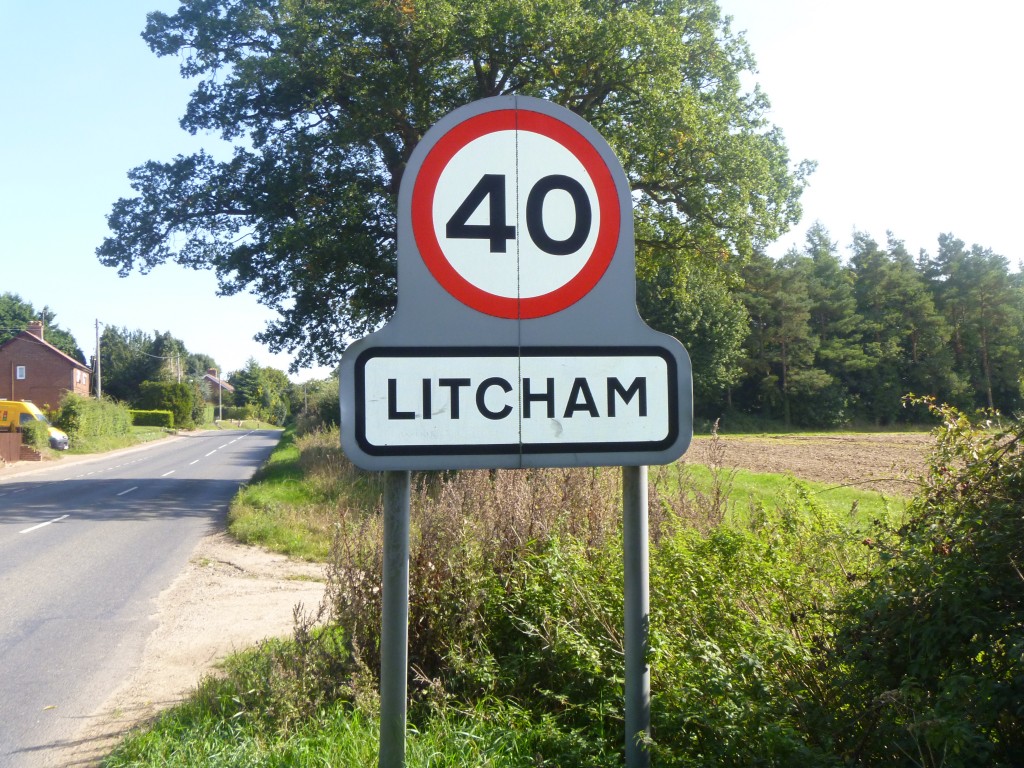 We stopped at the bench on the high street and ate Post Office comestibles. Lindsay was having something of a dip in form – I think we both decided at this point, we were quite ready for this madness to stop.
Litcham common has changed since I was last there – it now has "Cattle grids" and aspirations of a New Forest kind, with freely roaming ponies and Adders (I assume the Adders are still there – we had a near miss with one when out on a family walk there – many years ago). Of course, we'd already had free range pony action from such rides as The Three Down 300 so we were old hands.
After a brief hedge stop, we passed swiftly through my old stomping grounds of Necton and Holme Hale, then back through Watton, Stow Bedon (Commence discussion about how to pronounce it – "Beedon" or "Beddon"?) and Breckles. We stopped for Lindsay to have a few moments off the bike at Snetterton, before pressing on to Willy. No, wait… Wilby.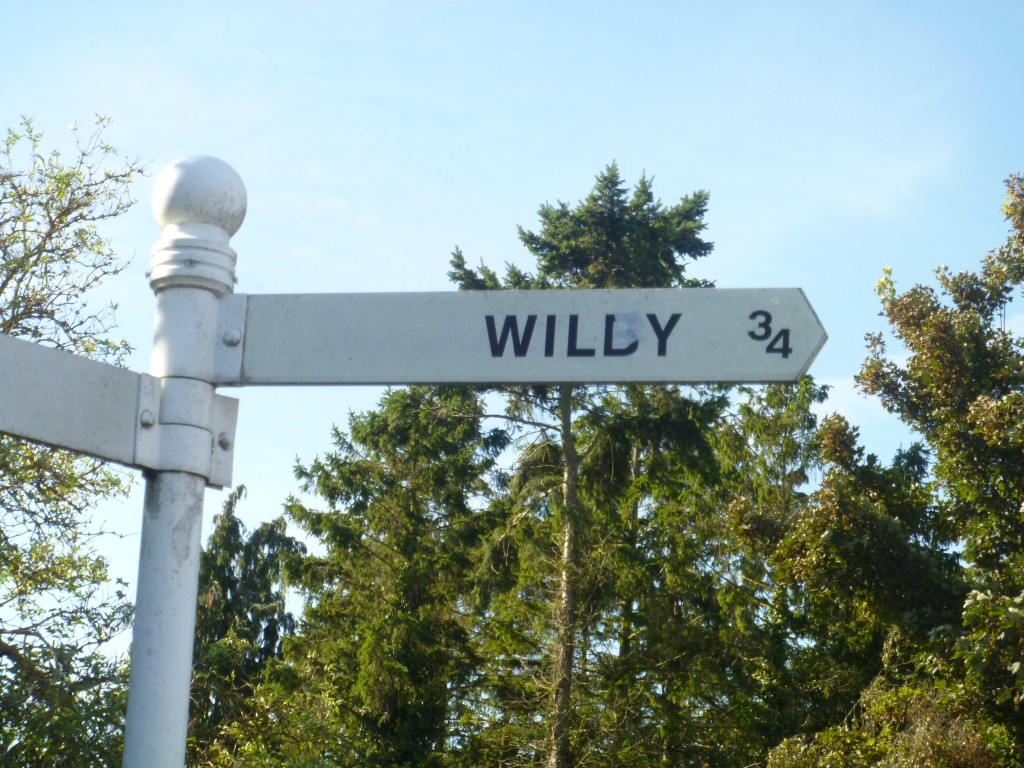 The final few kilometres were a slog – into the easterly breeze, and on a really bumpy road that exacerbated our comfort issues. But soon enough, we rolled back into Diss, like we have so many times in the last twelve months. We packed the bike away one more time, put all the stuff into That Bloody Ikea Bag one more time.
Lindsay uploaded our GPS tracks to Tony Hull. I'm taking over as Midlands DIY Organiser from Rich Forrest, so Tony is our DIY audax organiser as I can't validate my own rides. And that was that.
It's hard not to feel a bit like you do after finishing a book. A bit lost. We've got plenty of ideas for next season – but points chasing isn't one of them. It's been a blast, but hard work and we need a rest before starting something new.